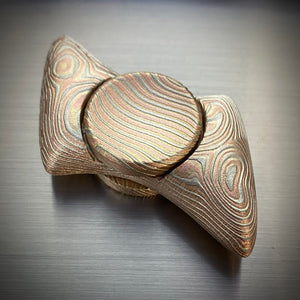 Aurora XL MOKUME
Deep etched Mokume with Zirblast finish.
There is a slight change from the original Aurora XL.  This new one now accommodates the Tranquilizer ER line of grips; regular, slotted, and the SMSF grips will fit this new design.  That is the only difference from the OG.  Everything else is the same.
DETAILS:
Length - 69mm from tip to tip
Width - 35mm
Thickness - 12.5 Body, 14.13mm Grips
Button Diameter - 24.80mm
Weight - 106 grams
Comes with tin and vinyl sticker
Comes with COA card
Limited amount. Get it while you can!
MAY HAVE SMALL DRILL DENTS ON BODY UNDER GRIPS FOR FINE TUNING BALANCE