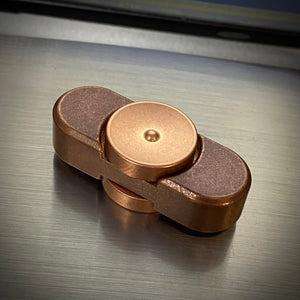 M3 Tranquilizer OG - Stonewash Finish
Here it is folks!  The one that started the Tranquilizer line a few years back. This design was the first to be machined in the M3 shop on the side of Mount Lookout in Crested Butte, Colorado. The first one was machined on a manual mill we turned into a CNC and used hand written gcode. Very little has changed since the first one cut.
DETAILS:
Stone Washed Finish
Length - 44.7mm
Width - 16.5mm
Body Thickness - 11.5mm
Button Diameter - 18.8mm
Unquiet Hands Reptilian Bearing Installed
Comes with COA card
Comes with vinyl sticker
*The bearings are installed using a high precision, specially made bearing press.  M3 is not responsible for damaged spinners once original bearing has been removed.